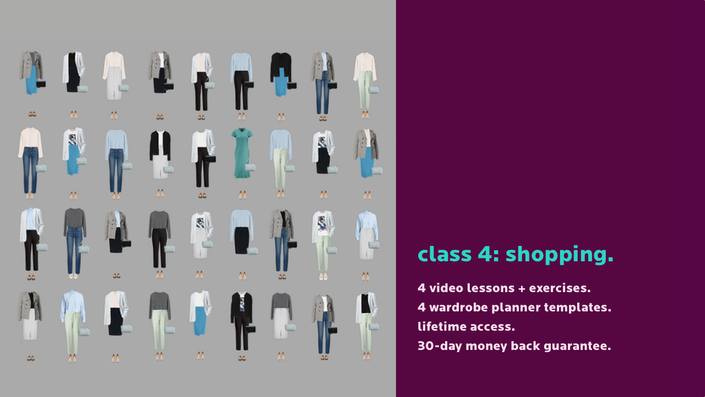 CLASS 4. SELECTION & SHOPPING
Make your shopping successful, easy and pleasant.
This class is perfect for those that know exactly what they want in their wardrobe. You will learn how to find the items you want and make sure they fit you. The class will also show you an easy way to create a visual guide that will ensure that you will wear everything you buy for as long as possible.
DURING THIS CLASS YOU WILL:
Create a shopping list.
Find all the clothes you've been planning to add to your capsule.
Create your new fully interchangeable outfits.
Prepare and edit your seasonal visual guide.
Know exactly where to shop, what to choose, why and how you'll be wearing it in the future.
Shop your fully interchangeable wardrobe.
New Wonder Wardrobe heroes said:
"I have now a more defined idea of what i want and when i'm going to buy something i'll assess first if it matches the style I'm aiming for and the rest of pieces in my wardrobe. Seems easy but i've never done it before in the carefully way you show it in the course. I'll be reaching for these videos again soon to remember each step of the process and to stay focused."
- Marta - Class 4. Selection and Shopping.
"Thank you so much! I love your course, it's so helpful! I've just made two capsules to take me through to the end of the year - one for work and a casual one. I feel very happy with both and can't wait to test them out. I'm looking forward to watching the course a few more times."

- Sarah - Class 4. Selection and Shopping.
"I love the course, it's very helpful. I think I already watched it 4 or 5 times! I'm actually building my business casual wardrobe and I'm quite satisfied with my last version."

- Julie - Class 4. Selection and Shopping.
Course Curriculum
Introduction
Available in days
days after you enroll
CLASS 4. SELECTION & SHOPPING
Available in days
days after you enroll
Your Instructor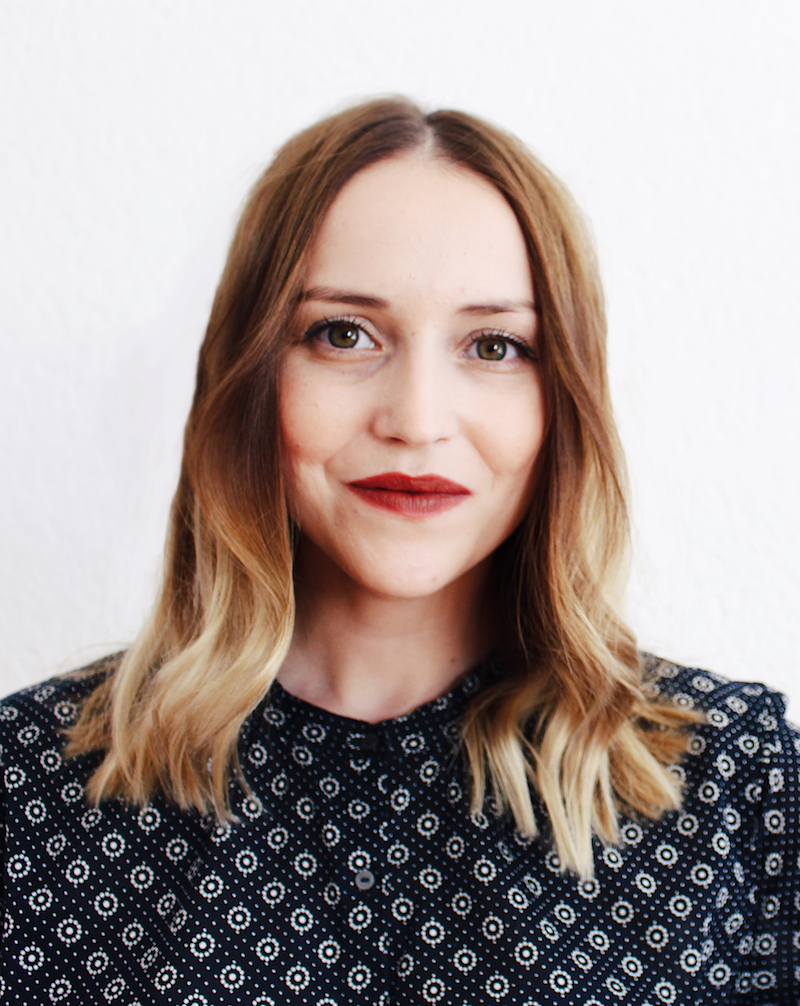 Since 2009 I've been working as an international personal shopper, creating multifunctional seasonal capsule wardrobes that help our environment and clients all over the world.
After gathering my professional experience and education in Milan, I've developed my own special method on building the perfect wardrobe - the Wonder Wardrobe. I've been working on it for a couple of years, constantly perfecting and testing my ideas on real people with real wardrobe issues.
Now I am sharing this successfully tested method with you so you can build a personal, multifunctional, well organised wardrobe containing an ideal amount of beautiful, fully interchangeable outfits that reduce waste and support sustainable fashion brands.
BENEFITS OF TAKING THIS CLASS:
Suitable for all levels of fashion enthusiasts.
Comes with editable templates to personalise.
All video classes come with English, Spanish and Russian subtitles.
Lifetime access.
Exchange tips with other dedicated students.
The class is mobile friendly.
30-Day Money Back Guarantee.